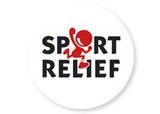 A few highlights for me from last night's Sport Relief, firstly though - did we really need to see the cyclists peeing? Did we? A more wonderful sight - the whales swimming along with David Walliams and James Cracknell (also a verrry nice sight, might I say!). Jimmy Carr and the eyeliner - not a good look - was he sponsored for that? And discovering Russell Brand is a West Ham fan - he shot up in my estimation, I might try listening to his show. Cat Crash telly (not a spelling mistake - think about it) Top Gear does Ground Force. As usual, the boys displayed a complete lack of respect for nature and for our nations most treasured sportsman, and reduced a once peaceful and serene environment to a scene of unrivalled vandalism.
It was the funniest sketch I'd seen in ages!
I love the comedy and the entertainment, but the films make me cry. And I don't think it's always just from sadness - sometimes it's anger. Anger at the situations those children find themselves in, anger at some kids in this country who think they're so bloody hard done by.
The Blues Brothers, Ray Stubbs and James Toseland - they wuz rockin'! And LOL at Paddy Kielty calling them Stubbsy and Toesy. Did he mean to do that? I don't think he did. Or am I the only person making the connection here?
Of course, my major highlight was Strictly - they all seemed pretty terrified, which made some performances a little stiff - great seeing the Ramps shaking his booty again, he actually seemed the most relaxed. But the triumph for me was Matt and Elaine's Tango - a fantastic choice of song, I'd never have thought of that, so whoever did *stands up and claps*. I watched it again, not just for that tremendous chuckle of Elaine's - what drama, what passion and what a great sense of humour. I hope they sign her up for the next show.
The Boxing - completely undecided as to who to cheer for, initially veering towards Lemar a) it's a music thing b) he used to do the same job as me for the same company. But then they said Ben was a West Ham fan - sorry Lemar! Not so sure about the mean streets of Epping though! And, I have to say, after making me laugh at the start, Spoony really got the hump when his man started to lose - he wore the same expression as Matt Di Angelo's brother after Alesha was crowned Strictly champion - that of a smacked arse. We in the GG Lounge were upset about Gethin, but we wore our usual sunny smiles and were happy for Alesha. It is for charity you know! And speaking of Geth, there he was, in the audience! Right behind Lemar's girlfriend and Fiona Phillips, couldn't miss him!
Have to ask: Why Davina McCall when they could have had Gethin? Pair him up with Claudia next time please!
Finally, James Toseland may just be responsible for me becoming an motorcycling fan - he's far too young and good looking to be such a rocker - and Zoo Nation, how brilliant were there? Loved the jazzed up 'Human Nature' section. Nessum Dorma to close, I think the GBP are actually all closet opera fans you know, judging by the response Jonathan Ansell received!